From the outset an FDS ( Functional Design Specification) is produced in collaboration with the designers and the existing site personnel if possible. From this a P&I (Process and Instrumentation) drawing is produced following approval of the the FDS and capital approval/purchase order.
At this time a Project time line is created with the help of all associated project disciplines. This Time line, costs and resources are constantly managed and updated throughout the life of the project.
Interestingly enough, due to the excellent safety requirements, a risk assessment must be carried out as this greatly influences the layout of the control and distribution systems. With the P&I (Process and Instrumentation) drawing and risk assessments, an industrial network solution and the position of the field I/O boxes can be considered. Operator control panels can be engineered to integrate where possible with existing systems. Interlocking with adjacent plant preferably with an appropriate fieldbus greatly reduces interposing voltages and dramatically improves commissioning times. Speed of the process must be considered in the decision processes.
It is at this point that armed with the expected electrical distribution of the systems, the panel layouts are engineered to allow for future expansion usually 20%. With the proposed cable flow indicated in the P&I drawing, a terminal schedule can be created in tandem with the panel layout. From engineering of the safety, mains and control voltages distribution, terminal requirements and correct identification of the physical items used, then and only then are the electrical drawings done. This ensures that with minor physical plant changes due to unexpected events the electrical documentation is as close as the installed drawings as possible.
All labels, industrial network mapping and documentation are then integrated into excel for distribution to application specific PLC, SCADA and HMI software. Labels
are developed in excel and integrated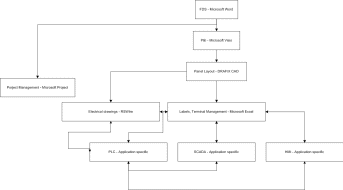 in all relevant applications.
PLC sequences are developed as far as possible with the use of Excel and at the last moment coded into the relevant PLC code. This helps to locate appropriate timers and allow easy modifications of sequences. Process alarms and corrective fault actions can be added as necessary.
Finally all publications are in PDF format as its easily read. This principle of design has been created to allow freedom of diagnostics, easy of fault finding and maintenance.
Compton